Sound planning is the key to successful investing. Working with a Professional Financial Planner to create a plan will help you find investments that fit your investing time frame and risk tolerance, to help you reach your financial goals sooner.
1. Review your finances
Before you invest, review your financial situation.
Write down what you owe (your debts) and what you own (your assets). For your assets include your:
super
home
savings
other investments
A net worth calculator can help you record this. Writing down what you own and what you owe will help you see what savings you can invest. It will also help you see how you can diversify.
Then write down your income and expenses. Preparing a budget can help you track what money is coming in and going out. This will help you see how much you can put toward investing regularly.
2. Set your financial goals
Write down your financial goals. For each goal include how much you'll need and how long you have to reach it. For example, taking a $10,000 holiday in one year, or reaching $500,000 in superannuation before you retire.
Then divide your goals into:
short term (0 to 2 years)
medium term (3 to 5 years)
long term (5 years or more)
Setting and defining your financial goals will help you pick the right investment to reach each goal.
3. Understand investment risks
Investment risk is the likelihood that you'll lose some or all the money you've invested. This can be due to your investment falling in value or not performing how you expected. All assets carry investment risks — some are riskier than others.
There are numerous risks that can affect the value of investments and a financial planner can discuss these with you. Risk is part of the investment process, and not necessarily to be feared, however understanding these is important.
Risk and return
As a general rule, the higher the expected return on an investment, the higher the risk of the investment. The lower the expected return, the lower the risk. Lower risk means the returns are generally more stable and there is a lower chance you could lose money.
The graph below shows the risk and return relationship for different asset classes.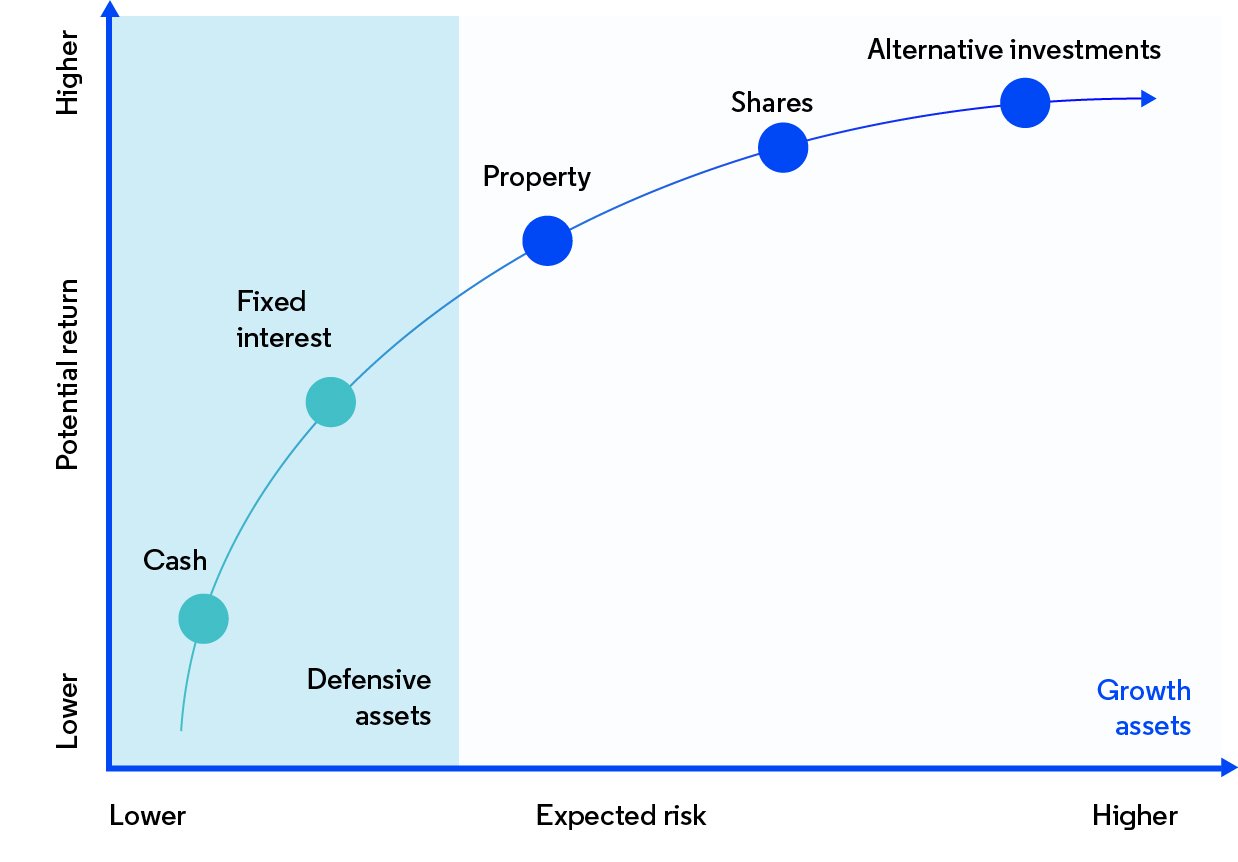 There are no shortcuts to investing success. The combination of high returns and low risk doesn't exist.
Understand your risk tolerance
Your risk tolerance depends on your ability to cope with falls in the value of your investment. Your age, capacity to recover from financial loss, financial goals and your health are some of the factors that may influence your risk tolerance.
Ask yourself: how would I feel if I woke up tomorrow and found the value of my investments had dropped 20%?
If this drop would cause you to worry and withdraw your money, high risk investments are not for you.
Each investor's risk tolerance is different and for different financial goals that have different investment time frames you may be willing to accept different levels of risk.
It's important to understand your risk tolerance and find investments that are aligned to it. Working with a financial planner will help you to achieve this.
4. Research your investment options
To find the right investments, you need to think about:
Return — what is the expected return on the investment? Does it come from income or capital growth?
Time frame — how long do you need to invest to get the expected return?
Risk — what types of risk does the investment involve? Are you comfortable to take on these risks?
Access to cash (liquidity) — how long will it take to sell the investment and get your cash out?
Cost to buy and sell — how much will it cost to buy and sell the investment?
Tax — how much tax will you pay on earnings (income and capital gains) from the investment?
Arrange a meeting with one of our team to get an overview of different types of investments.
Make sure the expected returns are realistic. If the returns look too good to be true, it could be an investment scam.
5. Build your portfolio
The way you structure your portfolio will depend on your financial goals, investing time frame and risk tolerance.
For short-term goals, lower-risk investment options are better. Consider investments like a savings account, term deposit or government bonds. These investments are lower risk as they're less likely to fall in value and you can access your money.
For longer-term goals, investments with higher returns such as shares and property, can be better. These investments are higher risk but you're investing long term, so you can ride out any short-term falls in value.
It's important to make sure you diversify your portfolio across different asset classes and within each asset class. This protects you against losing too much if the value of one investment falls. See diversification for how this strategy can help you.
If you need help with investing
A financial adviser can help you work out your risk tolerance, set goals and choose the right investments. Most importantly, a financial adviser will review your investments regularly to make sure they're performing as expected and check whether you're on track to reach your financial goals.
With so many different scenarios to consider, it is wise to work through your options with a financial  viaplanner who can help you explore ways to make the most of every area of your finances. If you would like to know more, feel that you or anyone you know requires advice, or would simply like a review of your financial situation, please visit our contact page call our office today to arrange an appointment on (07) 5574 0667.
We encourage all of our clients and colleagues to Like and Follow us on Facebook as we will be posting exclusive content including business updates throughout 2020.
Note: This communication (including taxation) is general advice only and does not consider your personal circumstances. You should consider whether the information is appropriate to your individual needs, and not act on any information without obtaining professional financial advice specific to your circumstances. This communication including any attachments is intended solely for the use of the individual to whom it is addressed. Any unauthorised use, dissemination, forwarding, printing, or copying of this communication including any attachments is prohibited. It is your responsibility to scan this communication including any file attachment for viruses and other defects. To the extent permitted by law, we will not be liable for any loss or damage arising in any way from this communication including file attachments.
Disclaimer
The information has been given in good faith and has been prepared based on information that is believed to be accurate and reliable at the time of publication. The information is general in nature and does not take into account your particular financial needs, circumstances and objectives.